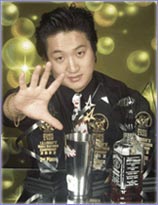 Pubs and clubs


Conference dinners


Theme nights


Corporate functions
Combine high energy and spectacular cocktail show with great tasting cocktails and you have an entertainment that will enhance your drink service, making your event unforgettable.
Sky and his Team are award winning bartenders and are probably the best in this region. They mix, blend, stir and shake all while throwing bottles, cocktail shakers and fire around like you have never seen before. The drinks can be themed and renamed to suit your event or company missions.
Some of the awards Sky received includes:
Champion, 2001 T.G.I FRIDAY CUP Korea competition
Champion, 2002 Las Vegas T.G.I FRIDAYS Cup World Championship.
Champion, 2003 San Francisco T.G.I FRIDAYS Cup World Championship
2004 Japan Cup World Magic competition special guest
2004 Korea Cup World Magic competition opening show
SMN is the exclusive agent for Sky.