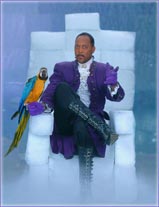 Stand-Up Magic


Walkaround Magic


Corporate Shows


Shopping Mall Shows


Entertainment Venues
An international award-winning Entertainer, "ICE"McDonald has established a stellar performance reputation with his grand illusions including doves disappearing through impossibly small objects, and the spectacular appearance out of thin air of his Mighty Macaw.
"ICE's magical performance is wonderful and his stagecraft is excellent," Billy McComb, Vice President of The Magic Castle in Hollywood.

Sold out performances at venues from The Magic Castle in Hollywood, breaking attendance and box office records at Monday Night Magic in New York City, NY, James Crown Theatre in Canada, Orpheum Theatre in New Orleans, LA to Jamaica, Bahamas, India, London, Wales and throughout the United Kingdom testify to the power and passion of ICE's delivery.
His sheer mastery of illusion has astonished audiences from magic clubs, casino showrooms, political events, conventions, seminars and churches. ICE was awarded the 2003 Entertainer of the Year by a National Entertainment Organization. ICE made a recent appearance on The Tonight Show with Jay Leno, alsofeatured on My Network TV's (FOX) Masters of Illusion. ICE was recently honored by the Minister of India for participating as the only United States representative in the Festival of Global Magic, held in Kerala, India. Witness the powerful performance of ICE. Welcome to the world of ICE: Illusion, Captivation, Enchantment.